story by Rachel Francois
photos by Tal Shpantzer
Korean designer Bumsuk Choi has sought to redefine the image of young professionals with his Fall 2010 collection. He still has them don a well tailored jacket, but ditches the pin-tucked trousers for black leggings and leopard print Doc Martens.  This is an achieved edge, Bumsuk claims, for the General Idea customer.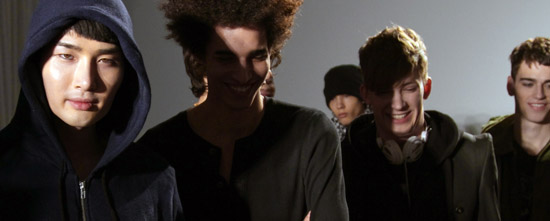 The predominance of black, grey, and navy were used as the contrast base for the prism-inspired pop colors red, electric blue, and gold metallic. Geometric prints are interlaced throughout.  The  pieces consisted of mostly outerwear – puffer coats, wool and leather jackets which were a slight deviation of the classic varsity jacket. Those brought me back to the looks of the unintentionally cool boys in high school, as did the final look with the marching band-style gold leather jacket.
Used to seeing wool in it heaviest form as a coat, Choi experimented with wool  and designed his tops from fishnet knits.  The silhouettes were trim with some looser silhouettes with continued trendy drop crotch pants.
Choi, also a part-time DJ, shared backstage  that he is continually inspired by music and its rhythm.  He is a designer who is marching to the beat of his own drum with a growing fashion-forward fan base in tow.