story by Alexandra Dawes
interview by Brandon Ruckdashel
photos by Freda Henry
photo editing by Alexandra Dawes
Legendary designer Norma Kamali took on yet another new direction for her Fall 2010 collection, and we were lucky enough to be able to ask her a few questions about her career-long innovation streak.
(interview at the bottom)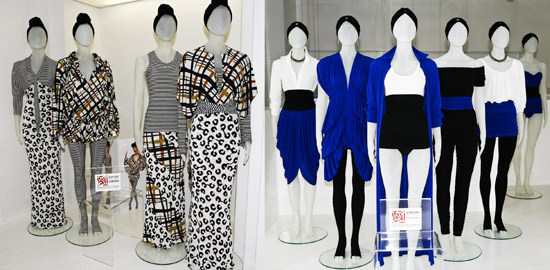 This particular exhibition was titled "Style on Demand" and was heavily inspired by the "democratization of fashion", or more specifically, how to incorporate technology with fashion.  Kamali has long been recognized for being at the forefront of innovation, and this collection is no exception.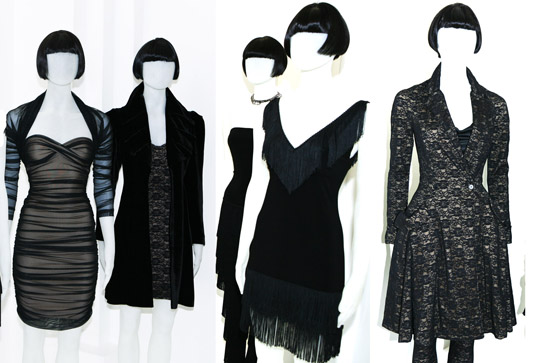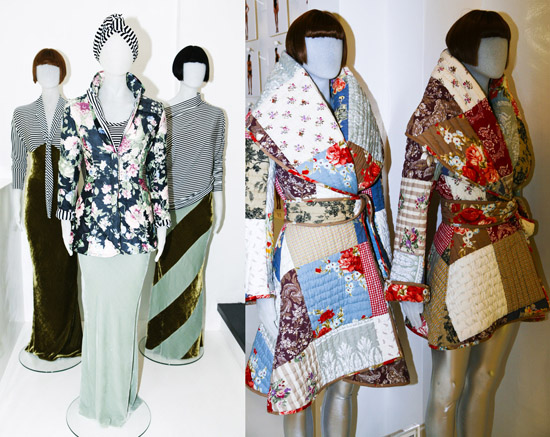 The highlights were the safety pin jackets and swimsuits and the beautiful rouching technique that was displayed on nearly every item, allowing the pieces to have a light and airy quality to them.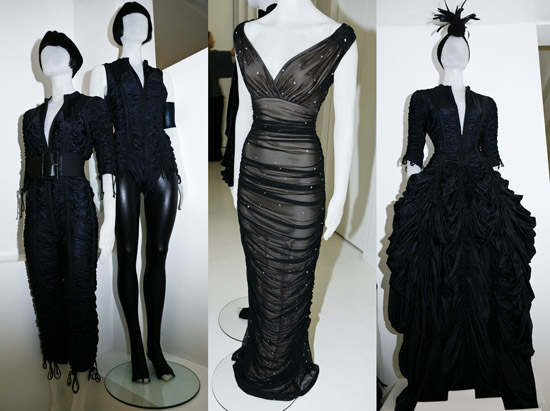 With a strong attitude towards working for the future and all that it has to offer, Kamali has been able to reach new wonders.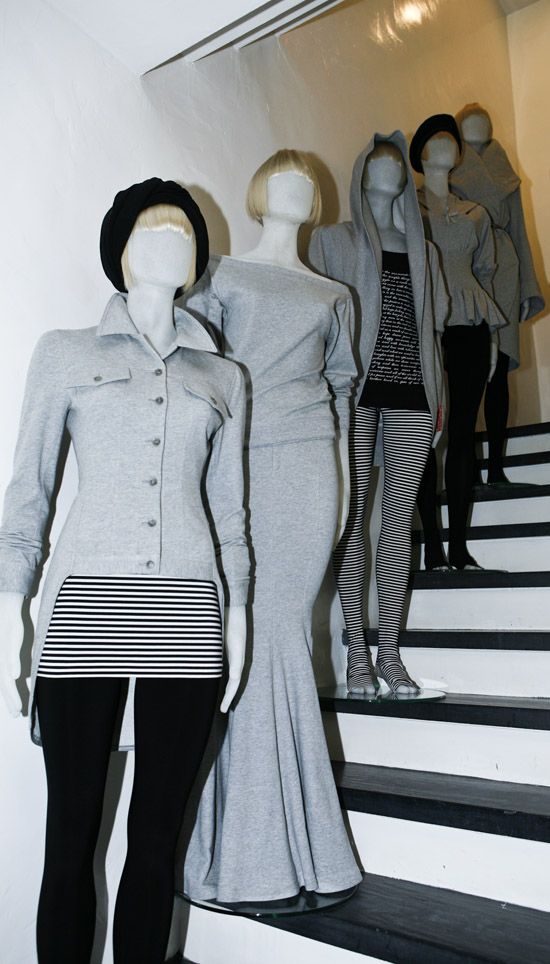 modaCYCLE reporter Brandon Ruckdashel interviewed the designer during her presentation.
modaCYCLE – You were one of the first designers to move to the internet as a retail medium, what spurred this?
Norma Kamali – well in the 60s when I graduated from art school and studied anatomy and thought that I would be a painter and I couldn't get a job I decided to get a job at an airline to travel and I worked in the office. These offices were the first companies to have computers. I learned in the 60s, which was very early on, how incredible that world would be and how we would be growing into that and how easy my job was as a result of having a computer. It wasn't a mystery to me when it started to become more mainstream. As soon as there was access to it in the 90s I felt very comfortable and wasn't threatened by it. That's why all of this feels very familiar to me and exciting. I'm addicted to it.
modaCYCLE – Do you have a Facebook page?
Norma Kamali – Well, I actually do. I have a company one that i participate in and I write blogs and I do all of that. My interest is really in the technology and what I can do individually and as a company to tell the information.
modaCYCLE – How do you feel technology will continue to change the fashion industry?
Norma Kamali – I think there are two big areas of concern. One is the buy-now-wear-now aspect of showing collections. I think everybody has new technology, everybody sees what's going on right away. How can you look at what's next and not want it and how can you want what's now when what's next may be very different? I think that's one of the things that everyone in the fashion industry would like to solve. The new technology is forcing us to solve the problem. Everything you see here is buy-now-wear-now.
modaCYCLE – Do you feel it would be easier for the designers to simply skip a season and show their collections during the applicable season?
Norma Kamali – It's not that easy. It's the planning for production that's really vital to making deliveries. What happens is the buyers have such a great input into what will be the best sellers. There has to be a more logical way to present the line. I think, you're a buyer you come in and I show you the collection in a very technical way. Most buyers buy it that way anyway and you look at it and decide what's going to sell for you. After the order is placed, literally, we do a show at the time it's going to go on sale. The buyer is reinforced on what it looks like and how it should look and the customer is excited. I think, then, everything will sell quickly. When we show this far ahead it takes away the punch from what is currently in the store. It confuses everyone. It didn't before, but now, it's not just the elite who see collections, everyone does.
modaCYCLE – Is there a secret to staying on the forefront of fashion innovation?
Norma Kamali – I'm not sure there's a secret. I think I'm just so curious. When you love something you're just excited about it. You can feel it in the air and everything is tingling and the hairs on your arms are standing up and you're like "oh my god, this is wonderful." I don't feel that way about everything. People get that excited about new cars. I don't drive, I don't care about it. I care about this. This is exciting to me. I guess it's just a genetic thing, you either like it or you don't like it.
modaCYCLE – Do you have a favorite story from studio 54?
Norma Kamali – Well the truth is, and nobody really wants to believe me, even though I was closely involved I never went. I just never did. I never took any drugs either my whole life and nobody believes that either. It just wasn't my sensibility.
modaCYCLE – When did you become interested in wellness and then take that from your lifestyle and bring it into the store, bring it to the public?
Norma Kamali – I've always been interested in fitness and health. I've been a vegetarian for a long time. I've tried different things. It's always been interesting to me to learn about what's good for the human body and what's going to give us the dynamic energy to be creative vibrant human beings. My experiences really are at this point in my life I feel I need to share them. It started, and I don't like to be a preachy designer who [says] "I know everything." I don't know everything, but just after 9/11 I got involved in this Olive Oil product and I realized that these products are so simple. There's no chemicals. Everything has been around for thousands of years. You can have a mask that's made out of sea clay, olive oil and ground olive pits. It's great for your skin and you can feel and see results. That you just puree olives and that's a great soap or you put ground olive pits in that and you have an exfoliator. A liniment that's made out of calcium and olive oil, that's great to calm the skin of sunburn or diaper rash. Any of those things are like so simple and I love olive oil. When I grew up my father was Spanish and my mother was Lebanese so you were gonna have olive oil in your hair and to keep you regular at every meal. It wasn't hard to discover olive oil. I loved it and grew up with it. That line was a natural for me. Massaging olive oil, first pressed olive oil, into your skin and having the nutrition go into your bloodstream instead of these toxic chemicals just made sense. I decided to do a line and share it with people and it's very specific and it's not a department –I think the last place you would see it would be a department store, it doesn't belong there. More recently, when I decided to eliminate processed foods completely from my diet. "Food Inc." and other really profound information that we're being confronted with. I thought I need to be a part of the support system to say here is a choice if you see this film and you're disgusted. These are some things you can do, try this. I've tried it and I want to share that experience. We have chocolate here that has pure cocoa and berries and it's amazing. You're not taking away at all from your lifestyle. I can't wait for "Green Love" in the morning because it's so delicious.
modaCYCLE – You've really taken the retail experience and infused it with more of a lifestyle. Are there any other aspect of your lifestyle which you plan on bringing to the store?
Norma Kamali – Yea, there are lots of things that I obviously want to add to wellness. I think the opportunity that I have through Walmart and working with them. Obviously I use all organic cotton for the T's and for the cotton products with them. Expanding that. Working with Walmart I think gives me the best opportunity to reach a lot of people. I think the Walmart customer is dying to know how to live a better lifestyle in a great price range. Not only look better but feel better and for their families as well. Walmart, I don't know if you heard me, has the largest fruit and vegetable, organic fruit and vegetable distribution. They're already there. I'm going to be doing a large size collection for them and I feel this is my way to reach this customer and communicate with her. I am very excited about that too. I think on a lot of levels I have a lot of opportunity. It's a fun time. It's a crazy time and a scary time, but to see Food Inc. and think "Oh my God, we're being poisoned" and to think "well no there's a solution, there is an answer to how to live a better lifestyle."
modaCYCLE – QVC, this year, became a major sponsor of fashion week. How do you feel about this? You work with Walmart, clearly you don't have the stigmas that some designers have towards different retail chains.
Norma Kamali – I don't at all. I don't think anybody does anymore really. Maybe some people do. I wouldn't understand why. I think bloggers alone and the whole idea of mixing mass with design, high design, is really so common now that not to have the opportunity to do it is kind of not expressing yourself on every level. I think an issue for me has always been about self esteem for women and what a great place for me to provide that trench-coat or everything that I'm wearing to women who have a very tight budget. Who's gonna know where they got their clothes? Nobody. Would you know if I didn't tell you that this was Walmart? Not at all right? That's my job, to try to do that, to say "this is for everyone. This isn't just for a few people." That's a great thing.
modaCYCLE – Bryant Park is history after this season. Do you have any favorite stories from seasons past?
Norma Kamali – Fashion shows, for me, have always been a mixed kind of excitement. I use to think that doing fashion shows was fun and exciting and I could show my clothes that way. I feel that it's almost ending at a time when we have all this new technology and new ways of showing clothes that I'm wondering if this isn't a signal from the universe for us to re-look at how we present clothes. Maybe it's not just fashion shows. Maybe there are some other opportunities that would be dynamic and also when we show them in proximity to actually selling them.
modaCYCLE – Thank you so much.
Norma Kamali – Thank you.