story by Alexandra Dawes
photos by Sandy Ramirez
interview by Sandy Ramirez
photo editing byAlexandra Dawes
Nanette Lepore sent down a solid Fall 2010 collection for New York Fashion Week, harkening back to the Italian Renaissance and the mid to late 1960s Sargent Pepper era with exceptional use of military and velvet detailing.
The collection consisted of a sturdy wool coat with cargo pockets, an olive anorak cut in silk and velvet, a series of velvet gowns, long sleeve tops and mini skirts, and short sleeveless dresses with scarf-like necklines. Lepore created functional coats for her collection: chunky tweeds and metallic leather with shearling trim and draped wool.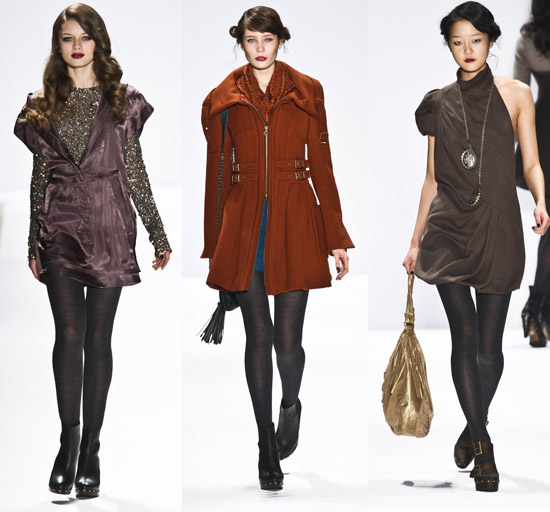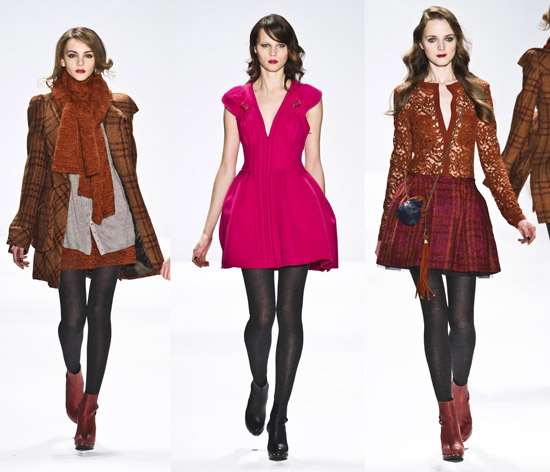 Lepore's collection was a little heavy in frills and ruffles; however, with it's successful nod to the 1960's psychedelic era, she was successfully able to pull the collection in through the heavy use of velvet, sweeping, full skirts, and use of a shiny gold and brown palette.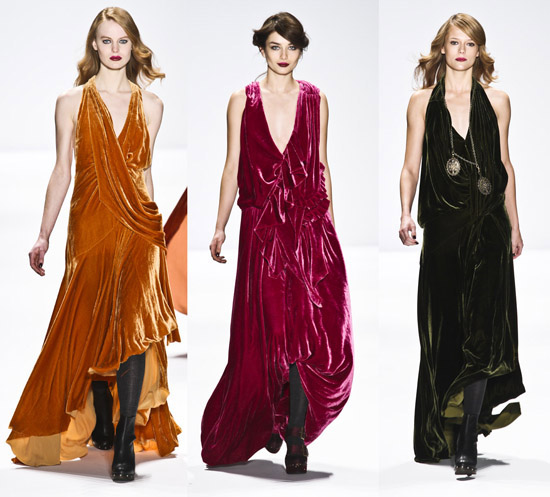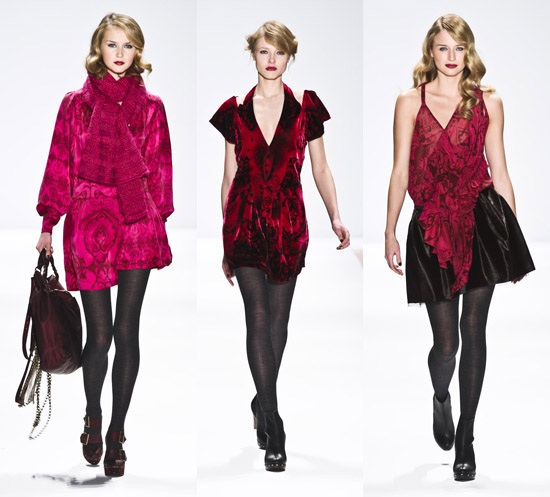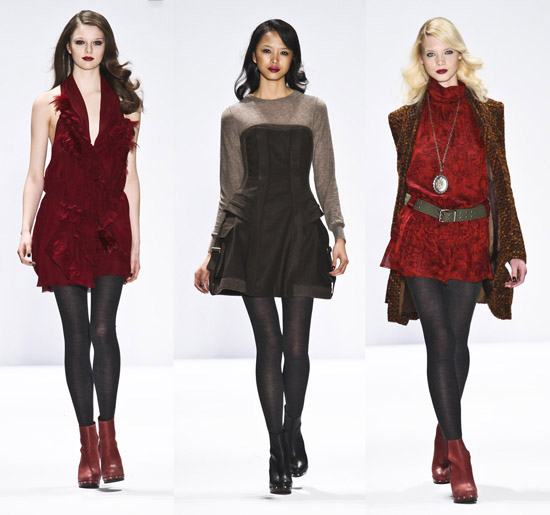 .
Sandy Ramirez spoke to the desinger back stage before the show…
.
modaCYCLE – What is the direction for this season's collection?
Nanette Lepore – The direction for this season's collection started from a beautiful Renaissance portrait of a faraway looking woman.  So I felt I took that and ran with it.  I took romance and the idea of mystery, with a sort of heirloom feeling to the clothing.  The colors really jump out of the portrait and I wanted the colors to feel like a Renaissance painting.  So they are very liquid colors, a lucid mood, it feels like it is in motion because the colors are all done in iridescent fabrics and in a kind of marbled fusion.  And then, things are backlit.  I have new handbags this season.  The leather is so lustrous and luminous.  It is really exciting.  There is this feeling of depth to all the colors and the palette.  The shapes and silhouettes are pretty little miniature bowl skirts, fuller shapes, fuller on the bottom, and still a very strong cut on the shoulder.    It is a mix of luxy fabrics, very industrial, more durable, everyday fabrics.  You get this sort of high-low quality, which is very nice because it enables you to wear really fancy, over-the-top pieces during the day or out and not feel too dressed up, which I like to be able to do personally; to wear a military jacket with a sequin skirt.  So it is kind of the idea of mixing things the way you really want to wear it and making really glamorous pieces really wearable.
modaCYCLE – How do you feel about the move to Lincoln Center next season?
Nanette Lepore – I am a little distraught about the move to Lincoln Center because right now I am really sad about my staff not being able to walk over from our office and taking the walk on the runway with my daughter.  This will be the last one that we walk down the runway here at Bryant Park together.  I am sure we will have many more together in the future, but it is a sad passing in a way because it is symbolic too of the garment center.  I worry we don't want to take the focus away from the garment center because we really do need to keep working to save it.
modaCYCLE – What is one of your most memorable moments here at Bryant Park?
Nanette Lepore – I think it is always just in the end, the relief, and walking down the runway with Violet that I will always remember.  And the great friends and the great people we have meet here at the tents.
modaCYCLE – I know you are working on a relaunch of your shoe collection.  Can you tell us more about that?
Nanette Lepore – The handbag collection is actually the big news this season.  We are working with Julie Gryson and it is going to be the first time I have ever launched handbags in my name, which is really exciting.
modaCYCLE – How has the economy affected your collection this season?
Nanette Lepore – Well, actually, things are picking up.  Everyone here has had a rough year.  We have had an okay time.  We have been pretty okay because things are picking up again.