story by Seth Friedermann
photos by Boris Marberg
photo editing by Freda Henry
One of the decisions that often needs to be made when evaluating fashion is, is what is being seen a gimmick or is it actually working in the design, helping it to achieve the look and feel that the designer was attempting to achieve? This often occurs with seemingly extraneous elements, ribbons, edging, adornments, or conspicuous work with extra fabric. Sure it catches the eye, but does it help the design?  Bora Asku's Fall 2010 collection forced viewers to make that determination again and again.
Mr. Asku used a large amount of pronounced detailing, primarily a puffed piping that created patterns or ridges in many places on the garment.  This piping was often deconstructed with intentional fraying or unfinished edges. It was also occasionally asymmetrical, which added to it's power to grab the eye. When it appeared on the darker pieces in the collection it evoked an exotic oddness that was mysterious and interesting. However, where it was placed on the soft pinks, pale mauves, and baby blues of the collection, it was distractingly odd and seemed a touch garish.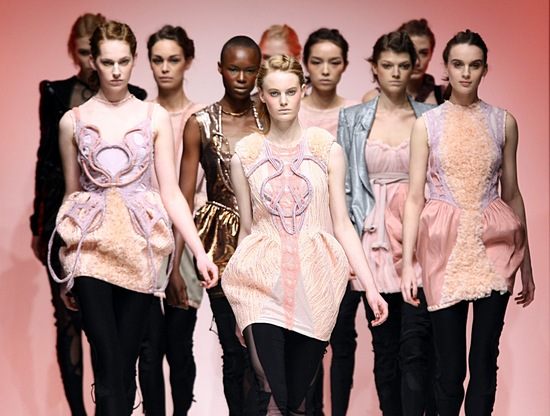 There were a few outstanding pieces in the collection; a beautifully cut pair of red gold shimmering metallic trousers which had a lovely loose fit to them and an amazing asymmetrically lapeled snakeskin jacket which had many fascinating details and a black and sometimes metallic distressed legging which were exceptionally well conceived and executed. There is no denying Mr. Asku's talent and fresh vision, though this collection left me wondering if less would have been more on many of the pieces.