story by Rachel Gill
photos by Freda Henry
In just her third season as a designer, Mandy Coon presented quite a collection for Spring 2011. A graceful blue shimmering water projection added movement behind the ethereal models. Makeup was minimal save for a bluish highlighter, and laurel-braided hair was reminiscent of ancient Greek idols. Ms. Coon's collection featured textiles of sheer silk, linen, leather and burlap. Unlikely combinations indeed, but somehow she made it work.
The looks featured intricate draping of the different materials together, creating a completely unique texture and feeling. The designs featured an immense amount of attention to detail, utilizing layering, frayed hems and asymmetrical lines. Ms. Coon cited her inspiration to be the jellyfish, and she artfully channels these creatures with her use of billowing dresses to mirror flowing movement, as well as thin strips of leather hanging from the garments and unraveling hemlines to simulate tentacles.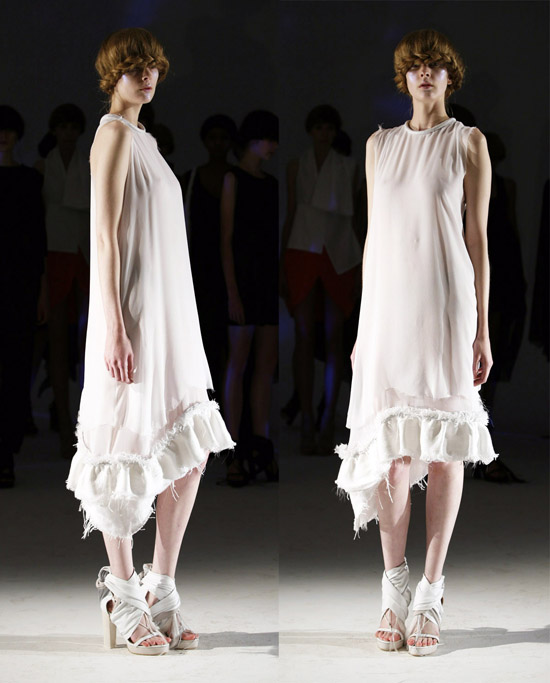 In this collection as well as her last, Ms. Coon kept consistent with her juxtaposition of the feminine and edgy feel of her creations. Delicate, sheer, light colored silk was paired with black leather or burlap. Harness-like pieces were layered over graceful, flowing gowns. Long leather fringe moved with the model's every step. For the color palate, white and black was relieved by the appearance of garments in a beautiful, bold shade of red-orange. Ms. Coon only used prints in three of her looks, but the print came in the form of a lovely dip-dye and appears flowing and soft while still possessing a strong color scheme. This collection also possessed a definite classical flair. Many of the garments carried a goddess-like quality and some were constructed in a wrapped fashion, similar to a toga. Ms. Coon used leather to detail many of the looks, cinching the waist of dress and to emphasize collar lines and sleeves.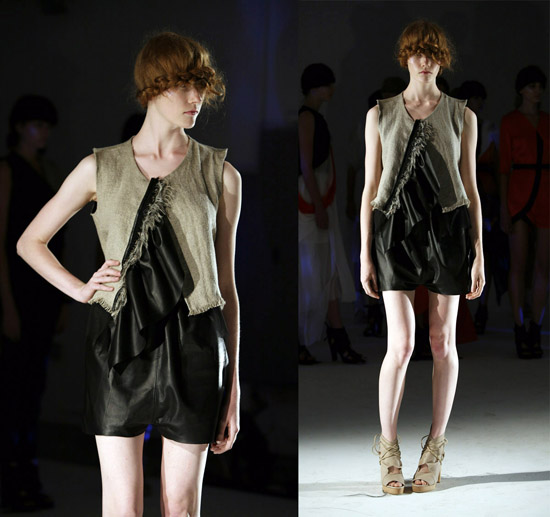 Some notable looks included black pants with one leg made of leather and the other of sheer silk, a white cropped blazer with sheer sleeves, and the dip-dye voluminous dress with a leather harness over top. The later happened to be a favorite of Ms. Coon, along with a lovely red-orange draped gown. When questioned about who she envisions wearing her clothes, Ms. Coon replied that while she understands that the feel of her garments typically would appeal to a younger clientele, she desires to transcend this and appeal to a wider variety of women. "The other day, I was on St. Mark's Place and saw these two old women dressed so eccentrically! Their style was incredibly unique and was complimented with dark lipstick. I thought, after seeing them, that I would really love to see my clothes on interesting women like this," Ms. Coon explained with a smile.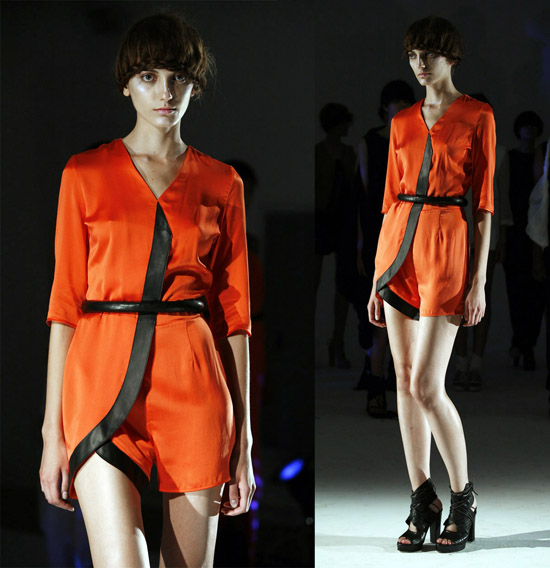 When asked what feeling she hoped her clothes evoked on the audience, Ms. Coon stated that although she hoped they would find her collection beautiful, it was most important to her that they found it to be unique. She achieved just that. Each painstakingly detailed garment utilized innovative ideas and construction techniques. Furthermore, the diaphanous, draped creations possessed a dramatic contrast between the dark and the delicate. Ms. Coon explained during the post-show interview how fortunate she felt to have been able to employ more staff this season. As a result, she was able to be almost completely hands on with this collection, something she felt has definitely made this season's garments special. "You can explain to someone how you want something constructed, but there is nothing like actually doing it yourself," Ms. Coon said. It will certainly be exciting to watch Ms. Coon further develop her talent as a designer in subsequent seasons.