story by Seth Friedermann
photos by Adrianna Favero
Zoe Twitt had unfinished business. The sexy warrior "high priestess" concept which inspired her Fall 2010 collection hadn't packed up and left her imagination. She felt that collection only told half the story. Her solution? Finish the job with the Spring 2011 line. Warrior priestess, meet summer goddess of sun and sand. A softer and very sensual style pervaded the collection. "The aesthetic has changed in the way that now I'm using all light colors and pastels, where as last season I was all dark and very linear." That wasn't the only way that Ms. Twitt had grown, however. With the move from rawness to sophistication came a definite increase in complexity, and her talent appears to have elevated her work significantly.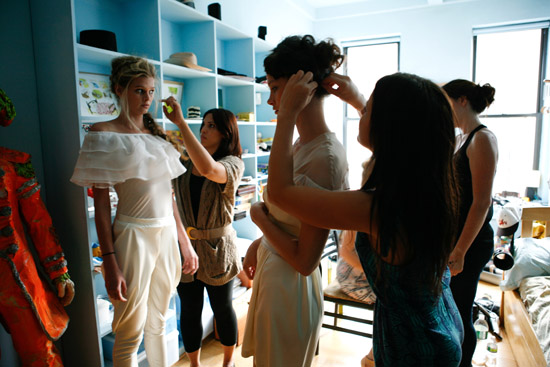 She displayed a very fine handling of shapes and construction. A lovely pair of silk jodhpurs was given just a tweak by over-cutting the fabric, gathering it, and seaming it just right, so it created a rolling wave of silk which flowed down the thigh, gently wrapping to the side, forming a pocket in it's trough. It's that, the marriage if imagination with ability that makes Zoe Twitt and all great designers special. Even her design work with leather had a markedly gentler feel this season. A tricolor cream, gray, and blue high-waisted mini skirt was a particularly lovely piece. Combining leathers with beautiful silks also added a feel of romanticism without meekness. Ms. Twitt used a great deal of soft draping, but contained it with structure. A shorter cut, pleating, and tiered layers added elements of control that allowed the collection elegance but added a little punch.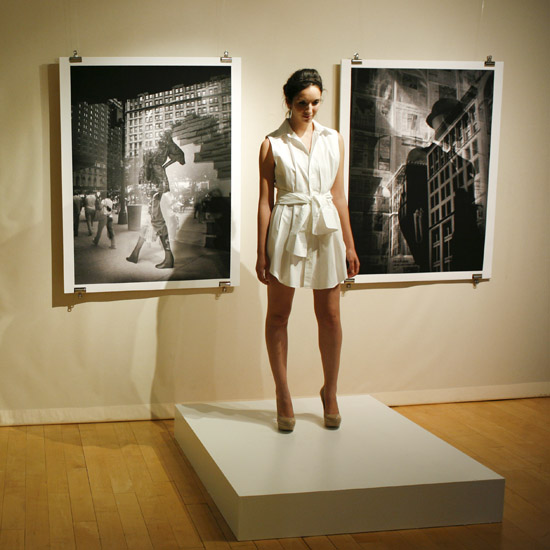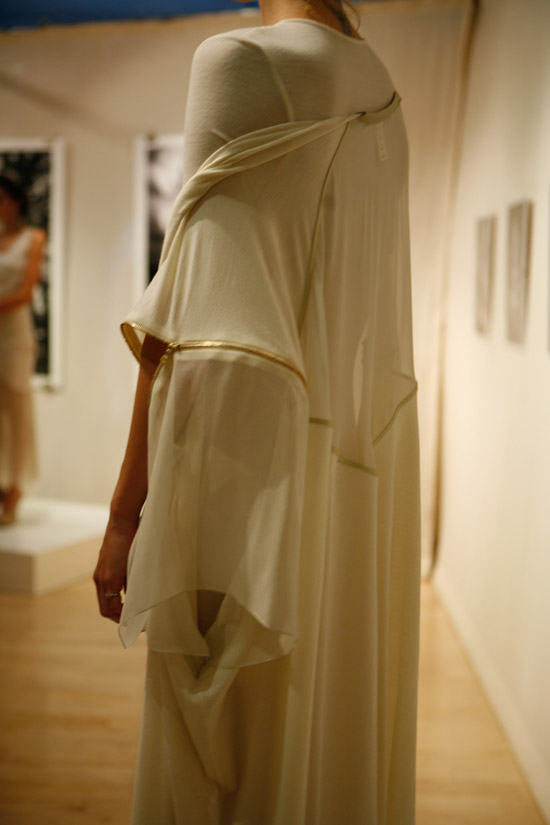 For Zoe Twitt there is no off time. When I asked her when she begins work on her next season, she sharply answered "tomorrow, because tomorrow I'll see today's mistakes. That's what happened last season, I said, 'wow this is really vampy. The idea of the high priestess really didn't hatch in this collection. Let me take it to the next collection.'" It's always exciting to watch an artist mature, to see them gain in confidence or even more practically in budget and staff. They say nothing succeeds like success, and this collection had that feel. With such a distinctly different feel from Fall 2010, this collection not only displayed a step forward for Zoe Twitt but also demonstrated her ability to imbue her work with different feelings. Last season we saw a defiant designer ready for battle, while this season was so much softer. I think it only fair to say that there is a secret at work here. The collection is very much a portrait of a strong woman in love. I wonder who that might be. . . .