story by Rachel Gill
photos by Martin Bielecki
Aptly titled, "Arena," Katie Gallagher's Spring 2011 collection really packed a punch. Recognized in past seasons for her incredibly unique leggings, the designer once again proved to be a front-runner in artistic, innovative, and sleek legwear. This season though, the vision that Ms. Gallagher's presented was not confined to below the waist. This collection felt perfectly planned and perfectly finished. Athletic "jock-goth" silhouettes provided a strong, coherent image. Points must also be awarded to the designer for her use of color this season. Having worked with black, white, and gray in her past collections, Ms. Gallagher really took a step forward with her use of blues and reds here. When paired with her modern patterns and slender tailoring, the result was amazon gladiator meets cool city girl, and it works.
Ms. Gallagher's bold collection featured many impressive marks of superior fabric craft, such as the suggestion of geometric shapes as part of her construction. When used to tailor and add detail to such pieces as her saturated blue leather jacket, the effect of that was quite dramatic. When asked about the jacket, the designer replied, "that blue jacket is definitely my favorite. It really emphasizes my use of color this season and that is definitely something new for me." Her now almost signature leggings also featured great detailing with opaque swathes of fabric adorning a sheer black legging in geometric or ribbon-like shapes. This opaque on sheer technique was applied to many of the other garments as well, further enhancing the collection's cohesiveness. Her striking shapes created a wonderful juxtaposition when combined with the pieces that had more freedom and flow, such as when she used a black leather legging with a flouncy voluminous skirt. While the designer still constructed a couple of garments with sleeve volumes reminiscent of last season's look, her silhouette this time around was decisively sleeker. Ms. Gallagher confirmed this observation. "My construction is always evolving and leather is always a very big element, " she said. "However, this season I wanted to portray a more sleek silhouette as opposed to the flouncy looks of last season. After all, this collection is inspired by sports, in particular running, and I really wanted that athletic feel to come through."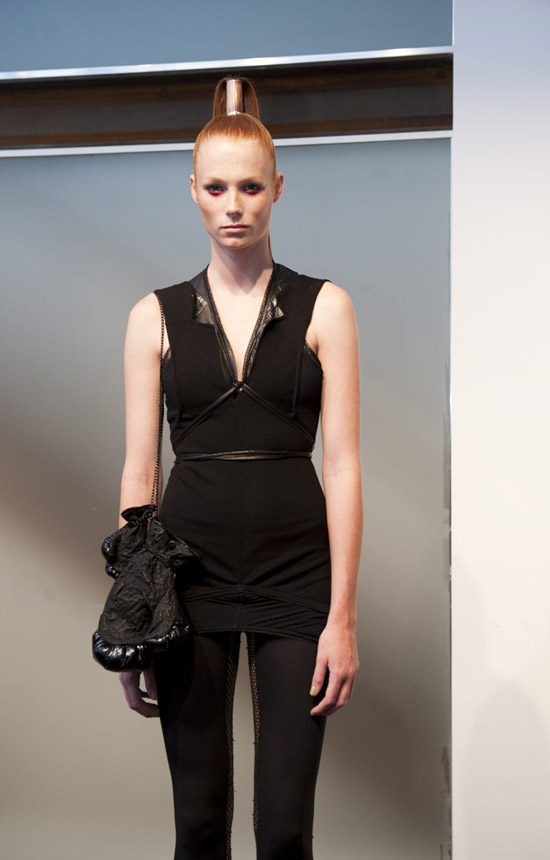 Additional credit is due for the dynamic shoes which finalized the coherent collection, finishing the looks from head to toe. As a final touch, a bag made from a boxing glove certainly proved to be a knock-out accessory. "I definitely envisioned this collection for a bold and confident woman living in a city," Ms. Gallagher said thoughtfully. The charming designer added, "I loved creating these garments and being able to show them to others like this is exhilarating." After tallying up all the points earned, one can only conclude that Katie Gallagher's futuristic, and sporty collection is a decisive winner. T.K.O.