story by Seth Friedermann
photos by Freda Henry
"And of course you have to stay current with what is on trend, what is modern." – Georges Chakra
The designer's words a few hours before the unveiling of his Spring 2011 collection speak to the grand riddle of fashion design. A fashion designer is really just a term for an artist whose medium is cloth. In fashion we have pop artists, commercial artists, those with stratospheric talent, and everything in between. Success can come in many forms and there is room for all. However, in international ready to wear there is only one way to succeed; a designer must sell a great amount of clothes a minimum of two times per year. They must design clothes that women will buy and that often means compromise and subjugation to current whims.
Where then does that leave this brilliant Lebanese designer? Mr. Chakra began his career as a classic couturier and only last year did he step into the maelstrom of worldwide ready to wear. Mr Chakra has been showing at Paris Haute Couture since the 2002 season and has cultivated a large and loyal following amongst his clientele, but at the price points his dazzling skill commands there are only a small number of stores that will purchase from his collection. His 46-piece Spring 2011 collection then represents an opportunity that takes on massive importance, and Mr. Chakra's quote that opened this review precisely indicates his strategy for success.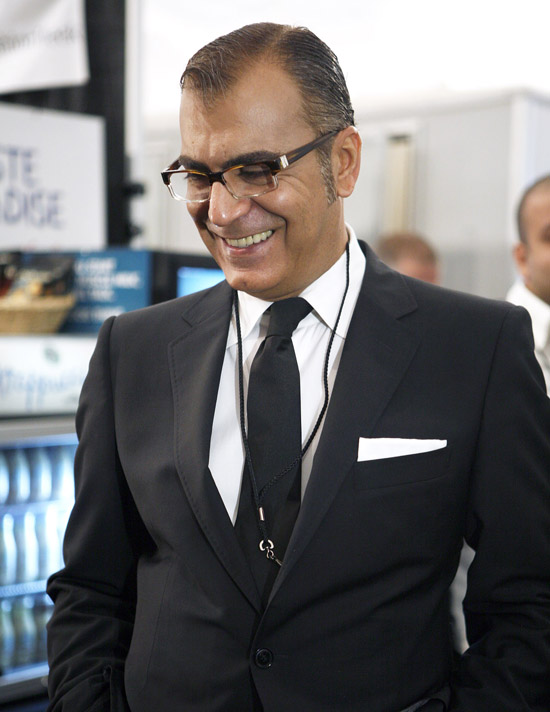 The designer has a reputation for reinventing himself from season to season, and his Spring 2011 collection was no exception. The collection displayed his couturier's skill in its intricate detail, yet it was still sleek and felt uncluttered. His color palette for spring was primarily gold, silver, black, and white, but there were luscious splashes of blues and deep purples featured in some bold degrades which are sure to stop traffic at a May gala in someone's future. There was a theme of interlaced cross-sections of fabrics which appeared many times as the elegant constructs glided down the runway. It was sometimes a detail on straps or edging and took bolder turns as a midsection or side panel. It was that, the sleek and sophisticated sexiness married to the turn of fabric at a high degree of difficulty, which makes these fashions stunning yet marketable. Writers in fashion use the term wearable a great deal, usually to mean practical. Here, any woman could wear these works of art, and though they may not be deemed practical, who wants to be remembered as being practical? Certainly one look at a Georges Chakra gown should be enough prodding for anyone to abandon practicality to the dull corner it deserves for at least one splendid evening.