story by Seth Friedermann
photos by Freda Henry
Imagination is one of the most indispensable qualities an artist can have. Unbounded talent will turn out stale copies of others' work without imagination. Great artists always have great imaginations, and this vital resource affects them in two critical ways. The obvious is that they visualize things that nobody else does, but less understood is that their imagination, almost as if by sheer mass, shifts their perspective. Fundamentally, artists are artists because they see life differently. Monique Lhuillier is one of the great fashion artists working in America today and Ms. Lhuillier most assuredly must see this life differently than most. After recovering my breath from the beautiful breeze that was her Spring 2011 collection, I have but one question; can she teach me to see the world as she does?
To say the collection was floral-based is to do an injustice on the scale of, "the ocean has some water in it." It was one of the great gardens of the world come to life, each beautiful piece compelled one farther and farther down the turning path. The lushness of the swirling scene was surpassed only by the scrupulous attention to detail. On a stunning blue and green, sweetheart cut topped gown, each piece of petal shaped silk was lightly scalloped to create more eye pulling complexity. Even on some of Ms. Lhuillier's "simpler" pieces, there lived a level of meticulous sophistication which again speaks to her imagination. A pair of perfectly cut linen pants possessed an angled opening for front faced pockets which created the illusion of an extra panel. And the material was so sheer that the color of the skin from the model's legs actually created an extra tone which flirted with the surface as she strode down the runway. Vision in the grand sense is a wonderful quality to possess but it will not create brilliance without the discipline to execute perfect details.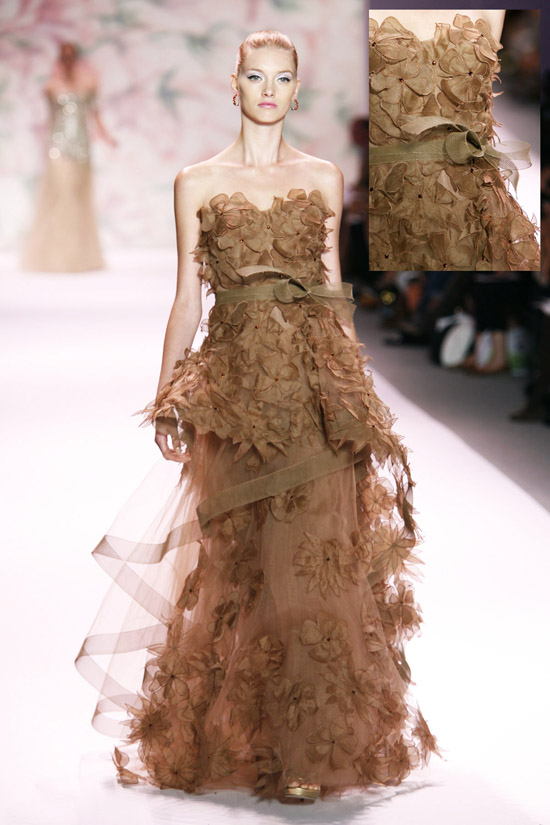 With the great gown makers of the world their is a tendency to focus on the inevitable show stopping pieces that, when the model turns the corner, elicit an audible gasp from the audience and send the media riser into a seizure of compulsive shutter clicking. This is understandable and good, however it risks misunderstanding. When viewing great art one is better served maintaining a broader view, soaking in the overall impact first before looking at components and particulars that make the whole. When absorbed as a complete collection, Monique Lhuillier's Spring 2011 offering proved with great clarity that she is capable of creating transfixing intricacies on less dramatic garments. To be plain, it's very likely that Monique Lhuillier has in fact never actually created a simple piece of clothing. Her definition of ordinary is, like her powerful imagination, very different than yours or mine.