story by Seth Friedermann
photos by Sandy Ramirez
Malan Breton's Spring 2011 collection was a bit of formality with fun and some sizzle with some substance. His designs hearkened back to the glamor days of Hollywood. Garbo, Dietrich, Harlow and Russell were with the models in spirit as the strode down the runway. Mr. Breton cleverly used details and design touches to invoke the era, rather than full patterns or styles. The better designers all do this, they know that to overly replicate a design even if it's just from a photograph is to copy another designer. The good designers also are always sure to add in the elements that to them capture the time they are inspired by, even if that element did not actually exist during those years. For his collection Mr. Breton did this through his use of cuts, slinkier than one would have seen in the 1930s, and more modern materials to achieve the glisten and gloss in fabrics that made up the looks in part or in whole.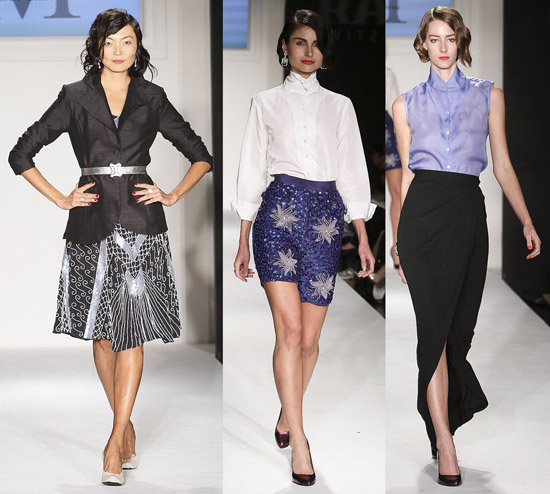 There is always a touch of whimsy and joy in a Malan Breton collection. Spend five minutes with Mr. Breton and you'll know it's beyond genuine. One of the more intriguing results of this sense is how it affects his menswear. In his mixed show he presented 12 looks for men and he utilized the same fabrics as he did in the women's wear and some rarely seen dress short cuts. Granted, its very easy to push the envelope in western menswear, as it is only slightly more progressive than religious garb. But it was refreshing nonetheless to see a designer attempting to do so. The highlights were a series of great five button full bodied silk vests, an elegant black on black tuxedo, and a variety of well-tailored yet still fresh feeling sport and long coats. Overall Breton's Spring 2011 collection was another solid effort from this increasingly difficult to miss designer.