story by Seth Friedermann
photos by Freda Henry
There are all sorts of beautiful. In the fleeting flow of models on a runway there are many moments of beauty. As your eye travels up and down a model and the garments she is wearing, you also take in the accessories, the hair & make up, and the footwear. The designers aren't the only artists who are the best of the best displaying their prowess during fashion weeks. The brilliant and vastly underrated Spaniard Toni Francesc had more than enough splendor from all quarters on display in his Spring 2011 Collection. Before I launch into my review of the amazing garments that Mr. Francesc created for spring, I need to pay deserved tribute to the great work that lead makeup artist Jackie Mgido of Mehron cosmetics created for the show. Jackie and her team's work on the eyes and cheeks of the models was the best I saw all season. As good as the make up and hair was, it was still second fiddle to the Toni Francesc collection paraded down the runway  at Lincoln Center. One of Mr. Fransesc's strengths to me has always been his fabric sourcing and creation. He uses the most delicate silks and creates knits that are so precise and fine that they could be mistaken for wovens. With all of that softness though he manages to still create flowing sculptural pieces that are brimming with points of visual interest.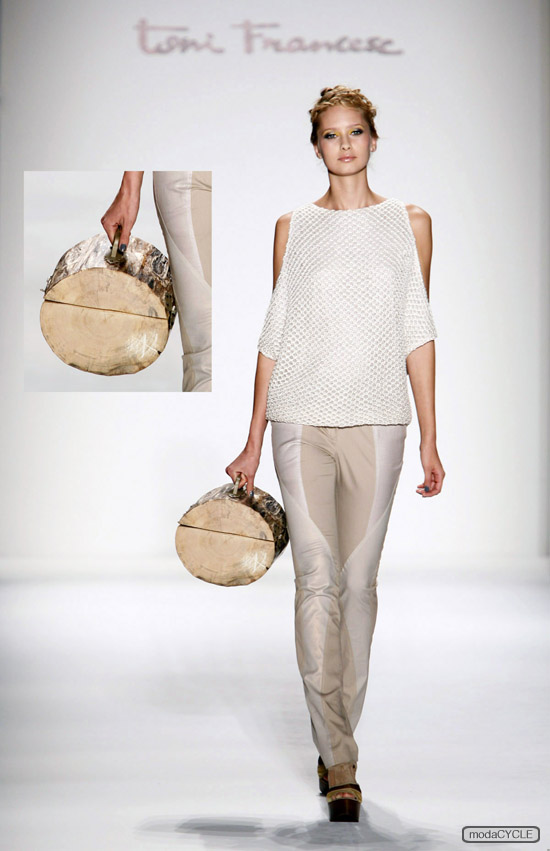 A fascinating mix of geometry featuring X's and diamond shapes, the softness of fabric mixed with beautiful polished pieces of wood, and great detailing around the neck and backs of the pieces, combined to create a collection that was at once romantic and serious. This is clothing for grown ups, and there was a level of sophistication that should appeal to the urban woman. The cuts were a mix of slinky and flowing but never too strong in either direction. It was possible to view some of the wooden pieces that were either accessories or incorporated into the garments as gimmicky, but to me that was only true for a very few pieces. It was obviously part of Mr. Fransesc's thematic, and for the most part I found the wood to be integral and not superfluous.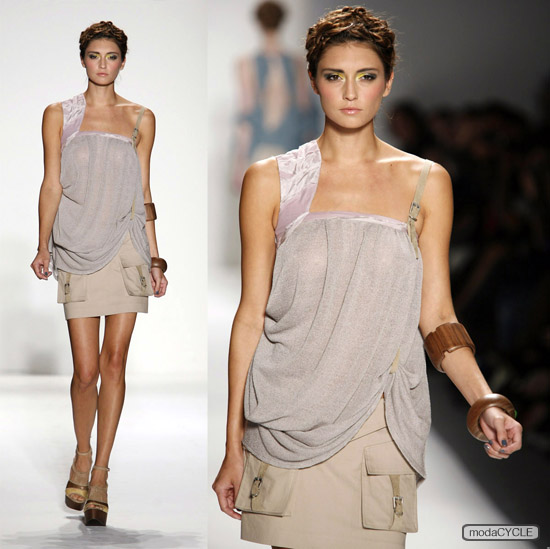 Toni Fransesc's Spring 2011 collection was dramatic but not loud,, and it was that nature that made it flow so well. The softness of the colors combined with just the right mix of the dark wood complimented the matching mix of draped flow and structured sections on the clothes. There were just maybe one or two sections on individual pieces that felt forced, but overall it was a top notch collection and a soothing walk through a beautiful wood.