story by Charles Beckwith
photos by Adrianna Favero
Master designer Reem Acra, who recently gave a wonderfully inspirational auto-biographical talk at TEDx in Doha, presented a cinema-themed Fall 2011 bridal collection in her Fifth Avenue New York showroom. Each look took the name of a romantic film, though direct visual connections to those films were not often plain.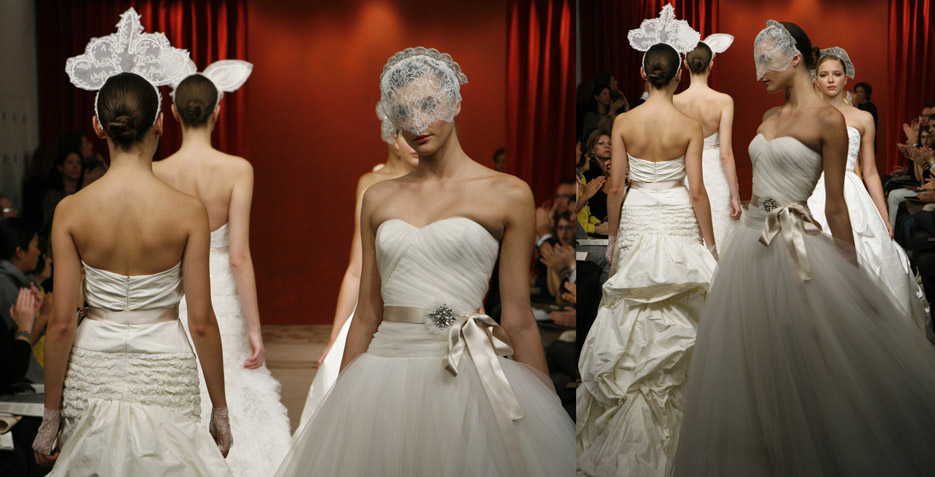 She featured innovative tiara-veils, some elegantly simple, some neatly decorated with a basic lace bow, and still others over-the-top in a  fantastically playful manner with elegantly-implied woodland-creature references. Although an entirely different compliment of materials, they reminded me of the animal masks from the 1968 Franco Zeffirelli screen adaptation of Romeo and Juliet,which, if I'm recalling correctly from the line sheet, was one of the films a specific garment was named for, though I'm not sure which dress that would have been.
There were sparkles everywhere, the dresses just sang in the light as they moved. As noted in our cover page for the article on her Spring 2011 RTW collection, Reem Acra sets sequins to stun. That collection was displayed as a presentation, but her clothing is just that much more dramatic in motion, as was well displayed with this bridal runway show. The flecks of light shimmering off the models' torsos gave an especially beautiful rippling effect on the corsets, where below there were no sequins and it was very clean and pure, giving great harmony. The sequins were over-the-top, yet in no way over-done.
All of these pieces seemed to be taken from the wardrobe of some modern day Arabic or Nordic princess's perfect closet, and somehow inspire in my mind the notion of a living homunculus posed atop a wedding cake with a tiny marzipan groom. Indeed, Acra's masterful drapery and exquisite fabrics give the impression that her wedding gowns, when still, are perhaps to be mistaken for miniature frozen waterfalls, or for their material to be not fabric but some masterful construct of buttercream frosting.
Fantastic.