story by Seth Friedermann
photos by Sandy Ramirez
The runway at Monique Lhuillier's Spring 2011 bridal collection show was framed by white branches that referenced a grove of birch or sycamore trees. A fitting setting, displaying a deep understanding of the mythology of woods. Those patches of pillars of white that shine out in a forest have long been believed to be home to magic and spirits unseen. The 27 looks that shone out on the path that emerged from that thicket of pale wood were perfect for the marriage of dryads or sprites. Lhuillier's looks ranged from cocktail to classic train, but all of the dresses maintained the air of fantasy that hung around the room. One of the many brilliant things about her as a designer is a talent at creating a delicateness in some of her garments that borders on fragility. The impression of fantastical softness is so strong that it makes the wearer seem dreamlike or almost ethereal. This is spot on for wedding gowns. in which many women want to appear to have descended from the heavens or walked out of a mythical realm. And, what man doesn't want to marry a goddess?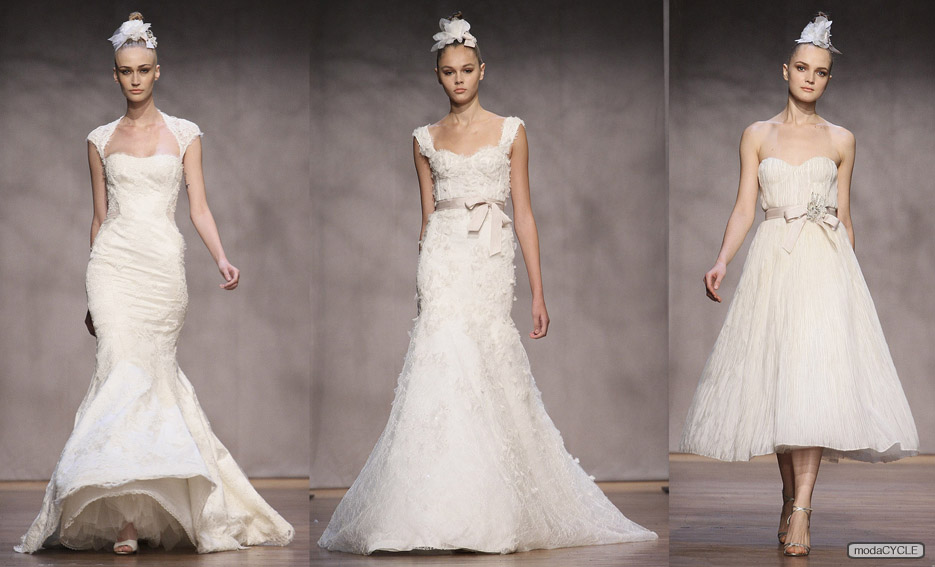 The gowns themselves were primarily high volume wider pieces with amazing detailing and embellishments. No matter how many design elements Ms. Lhuillier uses in the creation of one of her dresses, the garments always retain a feeling of lightness. Even in her more body-hugging designs she manages to create a sense of airiness or floating. It is her understanding of and considerable skill at construction that allows this to happen. With a dress as large and complicated as a wedding gown it is essential that the garment have very sturdy construction, often a matter of simple weight control due to the sheer volume of fabric involved, so that all of the fabric and elements behave in the way that the designer envisions. That all said, I challenge you to find a single sign of all that work when a woman wearing a Monique Lhuillier gown turns your head as she strides by.