story and styling by Seth Friedermann
photos by Aeric Meredith-Goujon
makeup by Samantha Lennon and Jewel Whinfield
hair by Damon Alfonso
models are Sietzka and Kristina from Fenton Moon
location is Brooklyn Motor Works
Venexiana designer Kati Stern is a forthright woman with a handful of seemingly unrelated passions. Fashion designer, architect, classical pianist. Born in Budapest and influenced equally by Venice and the violent sounds at CBGB's, her designs are red carpet ready, but always it's elegance with an edge.
"When I design, I have all of the music, all of the punk, all of the rock and roll playing all the time. I cannot design without music. What you see is the music, the way I see it, the way I feel it."
There is something very primal in a Venexiana piece, a mix of elegance and aggression that is surprisingly not odd or off-putting. On the contrary Kati Stern mixes these two strange bedfellows in a seamless and fluid way. For her collections Mrs. Stern acts more as a translator than a designer. She channels individuality, showmanship, and brashness. This is the heart of raw rock & roll and the heart of Venexiana.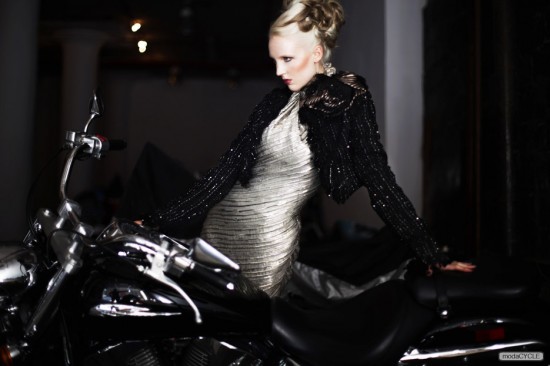 She has always been attracted to the dramatic, and on the competitive stage of the red carpet her work stands out as distinctive and bold. "I think there is an aimless wandering in fashion right now, looking for a direction. It's sad."
Venexiana stands in stark contrast to that sense, as Kati Stern made clear, mostly because, "No one will tell me what to design.  I will not change. I am not for sale." The root of all of her work is in her love of the opportunity for uncensored and unrestrained self expression. Her clients seek that out. They desire a  gown or a cocktail dress, but they want to show a iconoclast's aggression in a moment where everyone else is trying to get noticed. Kati Stern's designs stand out simply in the wearing. In Venexiana you don't have to try, the clothes themselves will do all the work to get one noticed.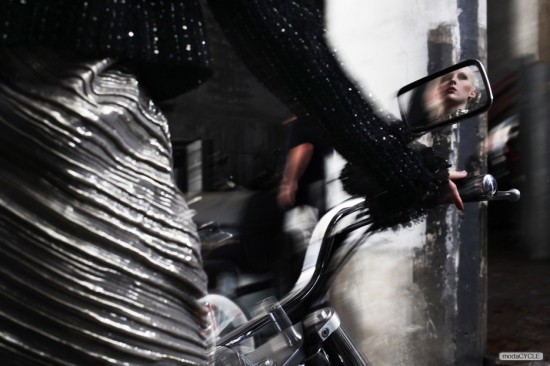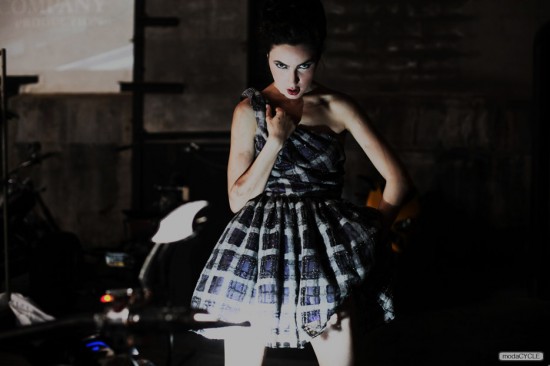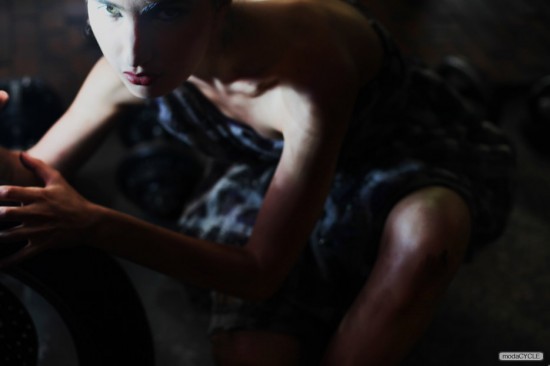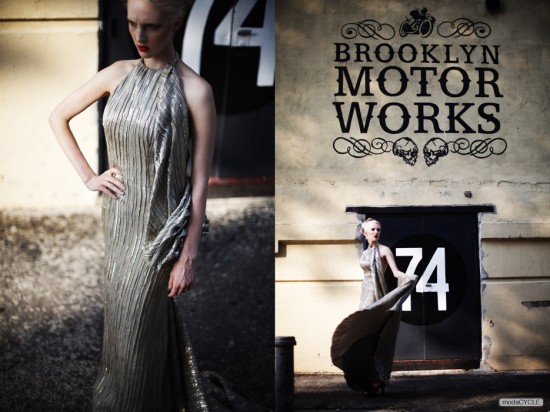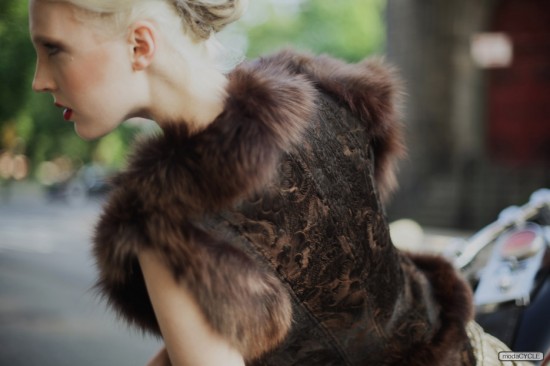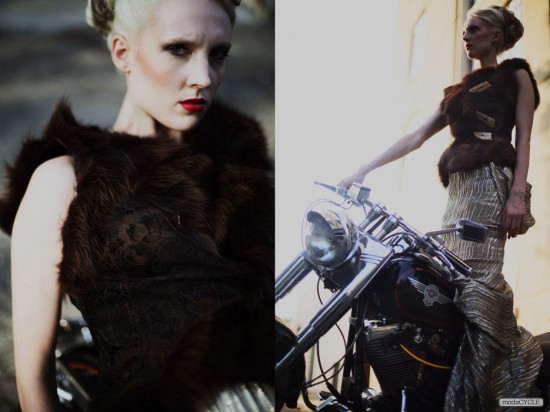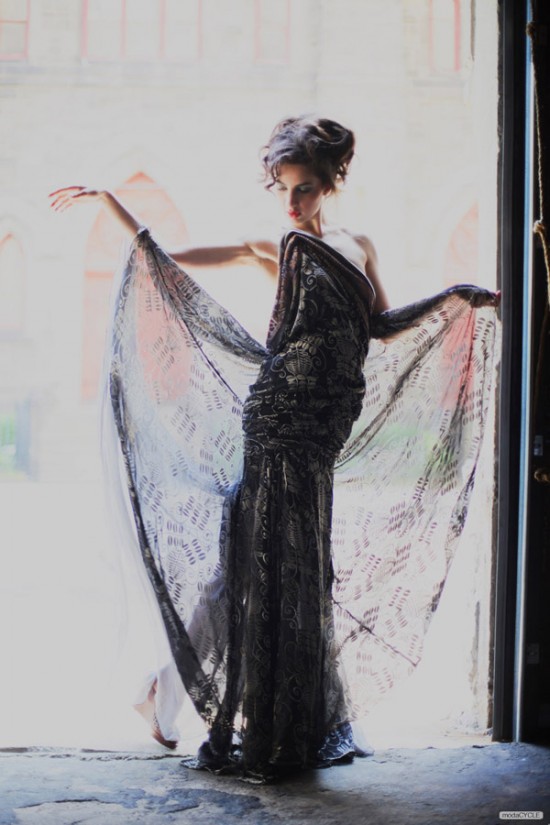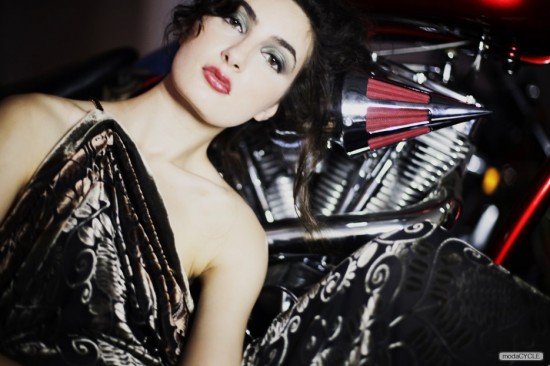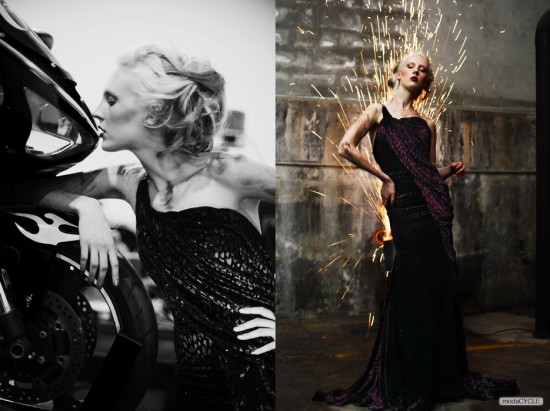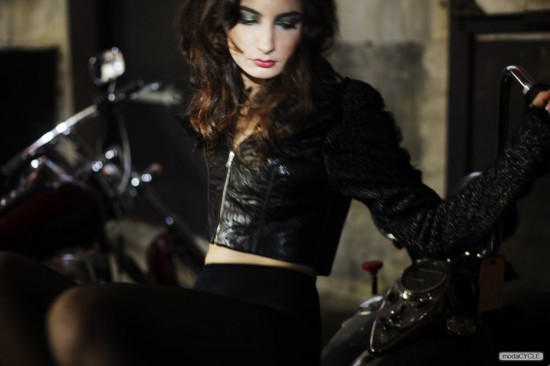 The editors of modaCYCLE wish to give very special thanks to Brooklyn Motor Works for allowing us to shoot this in their new shop.