story by Boris Marberg and Charles Beckwith
photos by Boris Marberg and Alexander Palacios
Several decades ago, Berlin was one of the most important fashion capitals in Europe. That hasn't been the case for a while now, but in the last few years Berlin has gotten some of its mojo back, with the fashion week events established by IMG and their naming rights sponsor Mercedes-Benz in 2008, and built onto by others since then in the form of trade shows and other kinds of complimentary events. The impact of Mercedes-Benz Fashion Week Berlin has been very positive for the city and designers in the region, continuously growing with each new season. This season there will be roughly 30 collections presented in the Bebelplatz tents. Most people involved seem to agree that IMG has done a very good job.
A major victory came last year when the Bread&Butter trade fair moved to Berlin from Barcelona, bringing with it buyers from all over the world, who had not been previously drawn to Berlin Fashion Week.
Now another fashion week event is starting in Berlin, the Michalsky StyleNite. Michael Michalsky, whom we at modaCYCLE have referred to as "Berlin's answer to Marc Jacobs" in a previous article, is one of the most important and interesting designers actively working in Berlin. He will present his new collection together under the same roof with two other key Berlin labels, Kaviar Gausche and Lala Berlin at the famous Fridrichstadtpalast playhouse, which boasts the record for having the world's largest theatrical stage.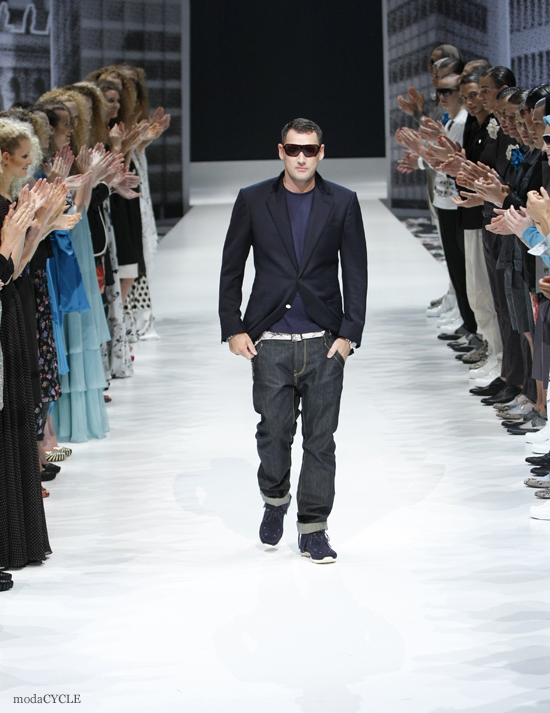 Though they asked not to be quoted, I was able to speak with representatives of Michalsky and IMG in the last few days. Questions on my mind included, what was the motivation for establishing the StyleNite when there is obviously space and time available for these three shows to be held in the tents with all the others? How does this fit into the whole fashion week? Is it about competition or completion?
Following last season's Berlin Fashion Week it seemed odd to many people that a a lot of the designers presenting in the Bebelplatz tent venues stay for only one or two seasons. What reasons are behind this apparent trend to not stick around? One might be that Berlin has still not become enough of a must-attend for buyers, and the fashion week is more of a reason to party and bring out the local media for celebrity chasing. Often it seems like the local media and even the international fashion press are more interested in the red carpet then in the garments. So, if you are visiting Berlin for the fashion week it is a totally different feeling from going to Milan or Paris. IMG recently recognized paparazzi behavior increasing at the tents, with much of coverage not landing in the trades, but in the tabloid press, and they are now taking a closer look at who is covering the events for what magazines. Even the daily German media seems to be becoming more like the British tabloids when fashion week is occurring, with photographers and video crews throwing elbows to get coverage of the sideshow elements. Of course, designers do get some benefit form the attention drawn by celebrities, but this is definitely a dramatic change from the more respectful media culture that first showed up in 2008.
This is not the first season Michalsky has run an off site show, and he is well known for working in a very conceptual and holistic way, so it is no surprise that he is designing beyond his clothing collection and crossing lines in the larger environment of Berlin Fashion Week. He is also known for after parties that have a special Michalsky spirit. Within that spirit, he has included the two other brands presenting during StyleNite, and together they represent the true avant-garde of the evolving Berlin fashion revolution, being the first to really rise from Berlin Fashion Week and reach out into international markets without moving operations to Paris or Milan.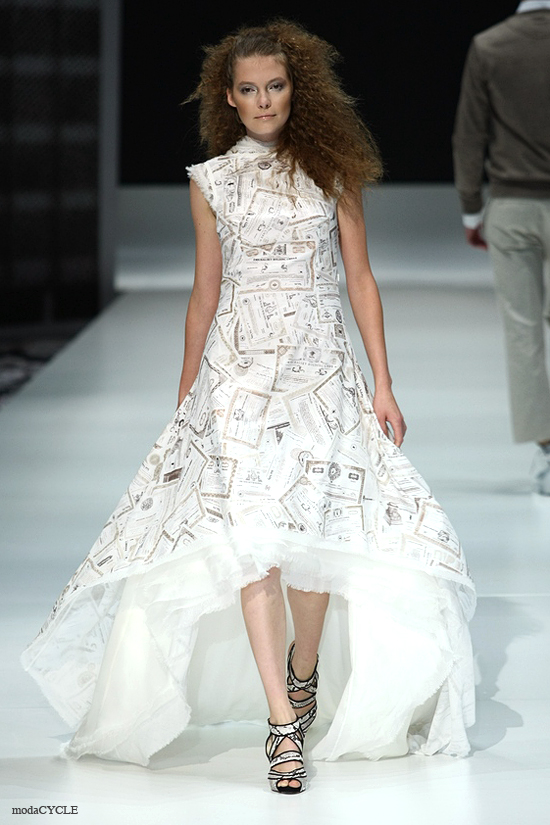 One aim of the split seems to be to break out of the traditional runway show format. Michalsky seems to think, and the modaCYCLE team agrees with him, that it should not only be the famous 15 minutes of just models and garments passing by on a catwalk, and that the show should bring the buyers closer to the products and lifestlye image, and be more of a celebration. Theses three shows in the StyleNite event will be supplemented by live music acts. Michalsky and company are trying to convey a special fashion feeling, to convey the addiction they have to an elevated lifestyle that nly begins with interesting clothes. This all plays into something discussed by The Imagist blog in a 2008 article about the end of fashion as restricted information. Here we are seeing the designers wanting to share their joy, so to speak, both with the buyers int he room and with fans around the world. The StyleNite shows will be presented live on the Internet in order to enable everyone to get bitten by the cutting edge fashion bug. Compared with the exclusivity that is represented by the tents to casual observers and tourists walking down the famous street "Unter den Linden" coming along the Bebelplatz, this is a remarkably different attitude and message. StyleNite is about inclusion and joy, rather than exclusivity and angst. Like Vogue/CFDA's global Fashion's Night Out retail experience event last September, StyleNite is a party, but is also going to be an innovative way for consumers to experience the brand identities of the three designers, so this is still a business event for fashion.
Michalsky and the other two brands starting the StyleNite have some powerful sponsors for the event, including Volker Tietgens an European internet pioneer, ho are helping them with the means to present their collection in this more open and extended way. It is not clear if they will continue this offshoot event in the coming seasons, this is an experiment, and  designers are open in their creativity and freedom of spontaneously deciding what the best way it is to reach the people and present their products.

For the future, Michalsky's representatives seem sure that Berlin will continue to grow in prominence and relevance, and have expressed no concern about StyleNite being in some sort of competition with the other events. Both IMG and StyleNight organizers say it is not about supporting one event to the other, but making the whole fashion week in Berlin more attractive to a professional audiences as well as other designers. It should also be noted that IMG has not yet released a schedule of shows, so they may actually be no conflict with Michalsky StyleNite drawing away the audience from shows in the tents, and the rumblings in the media about bitter rivalry emerging seem to be essentially baseless speculation.
The modaCYLCE runway team in Europe is looking forward to both Mercedes-Benz Berlin Fashion Week and Michalsky StyleNite, and we are very interested in the new dimension the StyleNite companion event will bring to the city's fashion culture. We will do our best to keep you informed in the coming weeks.