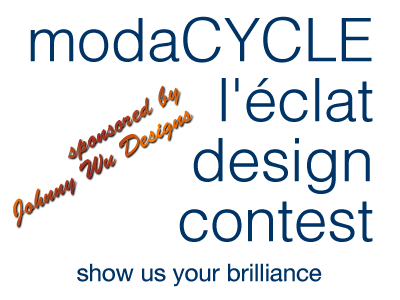 Round 2 deadline: midnight on March 25, 2011
L'éclat is a monthly fashion design contest from modaCYCLE and Johnny Wu Designs. Each month we are giving away two vouchers for free custom manufacturing patterns from master pattern-maker Johnny Wu, valued at $200 each, to an emerging designer in the tri-state area. Not only that, but Johnny Wu will spend a few hours personally teaching the winner how to make their own patterns and how to design garments that are easier to mass produce without sacrificing quality.
Johnny Wu Designs is a Full Service Garment Manufacturer located in the fashion district of New York City. They support new and emerging designers to launch and grow their labels by providing precise patterns, high-quality samples, and flexible small production runs.
If you are a fashion designer living in New York, New Jersey, or Connecticut, at least 24 years old, your own label is not yet carried by a major retail chain, and you are otherwise fully qualified under the contest rules…
–
using our submission form upload at least 3 photos in which you show us a garment or accessory design you're working on or that you recently created
via the submission form, tell us about the fabric, the lining, the stitching, and other construction details, and why that piece represents you as a designer
send it in before midnight on the last Friday of the month
you may only submit two entries per round
follow the contest here on modaCYCLE.com and on the modaCYCLE Facebook Fan Page and the Johnny Wu Designs Facebook Group.
Go to the [contest entry page] now.